Macro Focus stacking in Practice – Richard Hellon's Beetle Portraits
Recently I was back in Pembrokeshire (Wales, UK) to visit some friends. Among them was Richard Hellon, a friend and dedicated photographer. He describes himself modestly as an amateur, but already had some book publications with his photos.
After he is no longer quite so mobile at the proud age of 91 years, he describes himself as an "armchair photographer". But that does not stop him from taking fascinating and great photos. His models sends him ebay directly into his tabletop studio. Since they are all very small, it is not so easy to show them in the best light and tack sharp. In this post I would like to show how he does macro focus stacking in practice.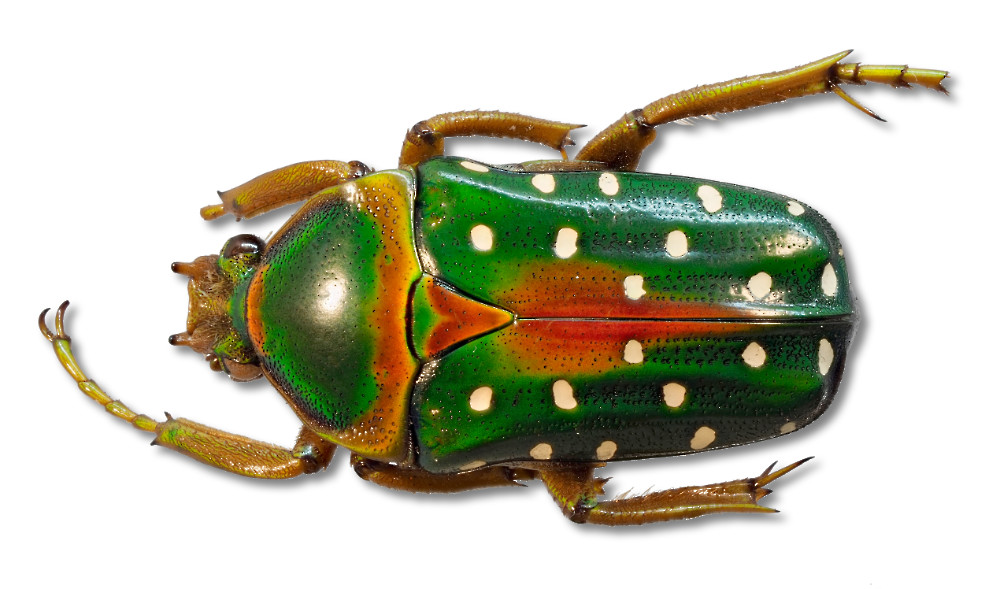 Richard takes macro photos of the most spectacular exotic beetles in outstanding quality with great depth of field and best studio lighting. In order to achieve a sufficiently great depth of field in these macro shots, which sharp images the entire animal, he uses the focus stacking technique for the recordings. The result is between 30 and 200 shots with different planes of focus, which are joined together to form a picture using suitable software. The result is a shot that, despite the typically very low depth of field in macro shots, shows the subject razor-sharp from start to end.
He makes use of two different technical methods to realize the focus stacking. In this way, he has portrayed about 100 different beetles within two years.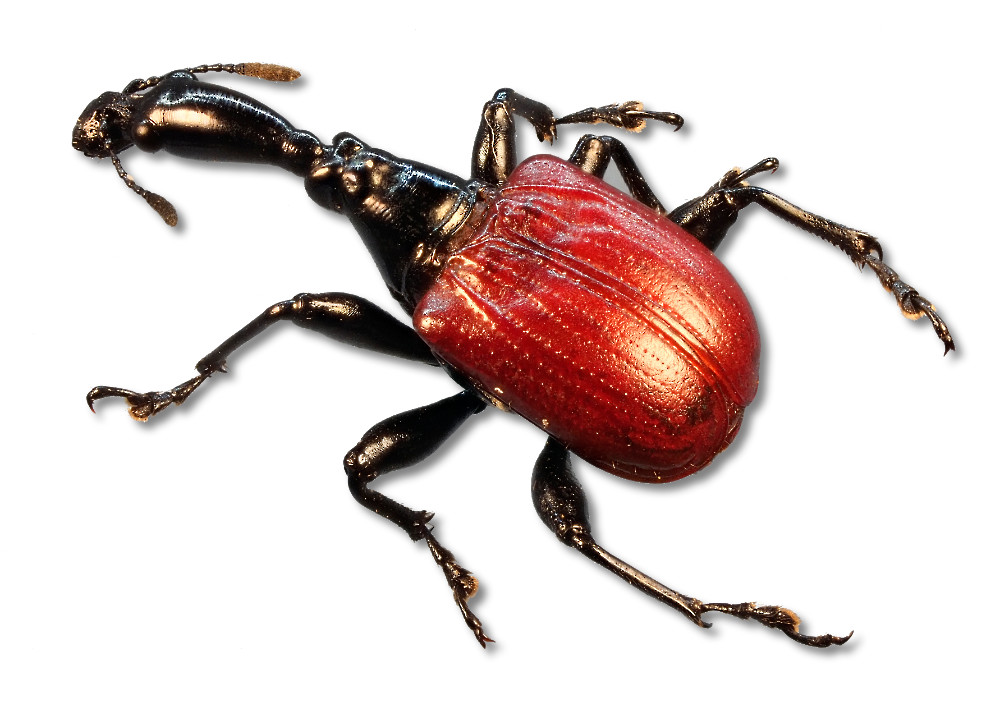 Camera internal focus stacking | Focus stacking with motorized macro slider | Further accessories | The sequence of a "shoot" | Installing WeMacro Slider | Richard's equipment | Manufacturer Overview | Further informations
---
Camera internal focus stacking
Thanks to an integrated function, Olympus system cameras allow focus stacking shots without having to move the camera between shots when using suitable fixed-focal-length lenses. He uses an OM-D 5 MkII and the Olympus Zuiko lenses ED 30mm F3.5 MACRO and ED 60mm F2.8 MACRO. For precise adjustment of the camera's distance to the subject, Richard uses a Velbon slider, the "Velbon Super Mag Slider". Of course, also suitable adjustment slides from Novoflex, Manfrotto, Meike and other manufacturers are suitable.
To control the camera and the focus stacking function, the free software "Olympus Capture" is used.
The in-camera focus stacking can be used under certain conditions, even if a special software allows this. A large number of cameras equipped with an internal or external WiFi module can perform Cascable focus stacking with the program available exclusively for the iOS operating system (iPhone and iPad). Also the program CamRanger, which is available for MacOS, Windows, iOS and Android, offers with the CamRanger WiFi module a focus stacking function.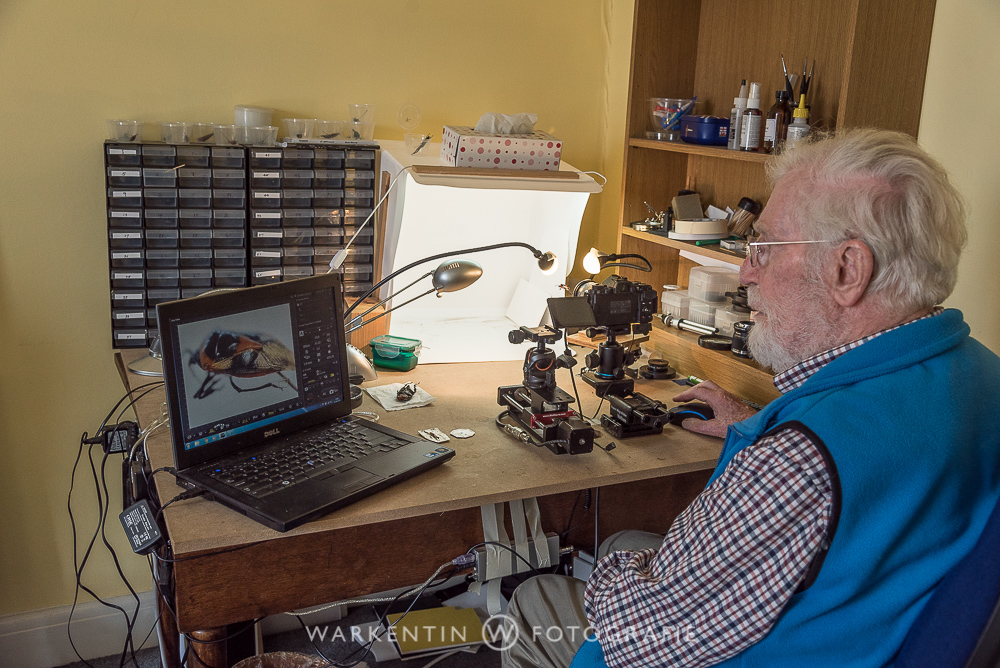 ---
Focus stacking with motorized macro slider
This does not work for the Sigma 105 mm F2.8 Macro EX DG OS HSM lens, which he also uses. To do this, he uses a motorized macro slide (WeMacro Rail) with software from WeMacro to move the camera either in millimeter increments or in increments of 1 / 1,000 millimeter (1μm) to the subject and thus realize different foci for each shot. It costs about 300, – € including software, all necessary cables, power supply, etc. The advantage of this method is that it can also be used for cameras that do not contain integrated focus stacking functions. The adjustment slider is used both for adjusting the camera to the subject and for gradually moving the camera for focus sticking.
The WeMacro slider and the camera are controlled by the WeMacro software included with the slider.
Other motorized macro sliders include the StackShot from Cognysis and Castel-Micro from Novoflex, as well as products and services. e.g. by StoneMaster, StackRail and MacroRail.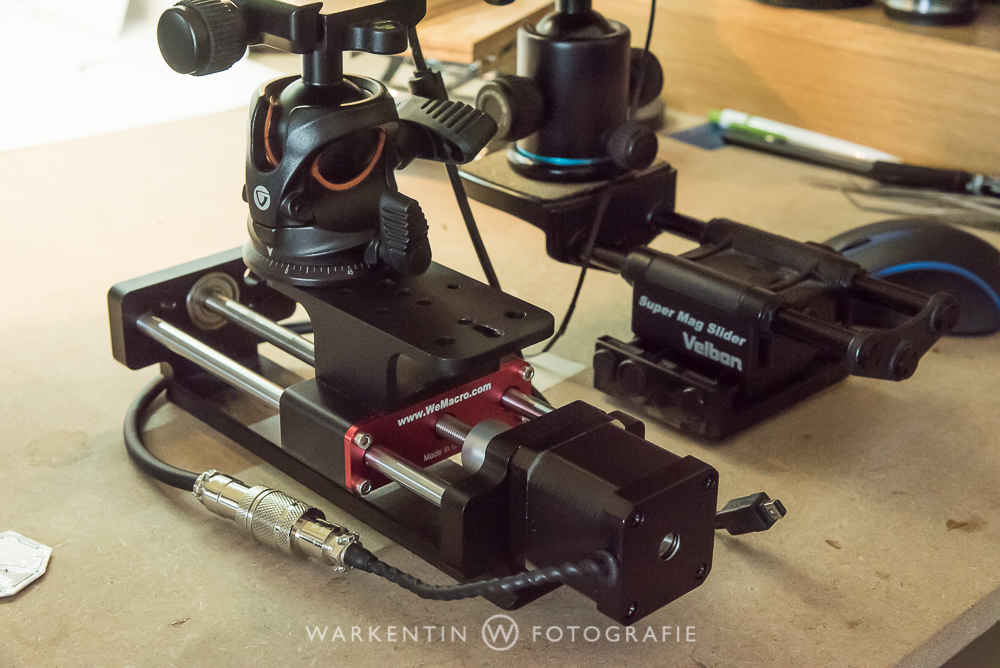 ---
Further accessories
In both cases, if necessary, additional extension rings of Movo or close-up lenses from Raynox are used, depending on the magnification required. In addition, a ball head is needed for the alignment of the camera.
To illuminate the object optimally, Richard uses small LED lights. To my surprise, these are very cheap lamps that he bought from IKEA. They are available under the name "Jansjö". Since the light of these small LED lights often seems to be too harsh for him, he has added suitable "soft boxes" himself. For this he has cut a table tennis ball right in the middle and fixed the hemispheres with a little tape in front of the lamps. They fit very well and it works perfectly!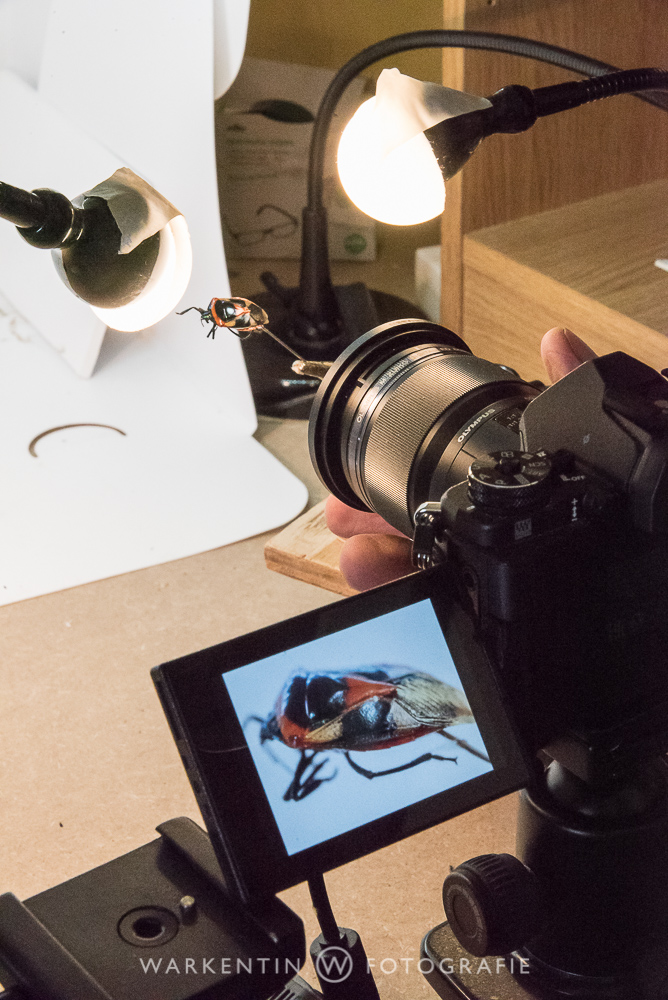 Richard uses Zerene Stacker software, which is available for both Windows, MacOS and Linux for purchasing. But also the image editing software ON1 for Windows and MacOS contains a focus stacking module to add numerous images together. Richard uses Adobe Photoshop to protect and optimize the finished subjects, but programs like Affinity Photo and others do it just as well.
His model, the beetle itself, he gets from "TheBugmaniac" via ebay from France. "TheBugmaniac" has a wide range of different preparations of beetles, butterflies, moths and other insects.
---
The sequence of a "shoot"
After the ordered Beetle has arrived at Richards studio, at first this is made flexible. Without this procedure, the beetles would break off when trying to bring the legs, feelers or other body parts into the desired position. For this purpose he uses a liquid called "Appendage Relaxing Fluid". After the preparation, depending on its size, has been stored in the solution for a sufficiently long time (manufacturer's instructions), it can easily be brought into the desired shape. It is then skewered on a long needle or the like from the rear and then the needle is fixed in a suitable holder in front of the camera lens in the desired position. The lighting is aligned with the subject and, if possible, the background is optimally illuminated. Then the image cropping is selected as desired and the lens is focused.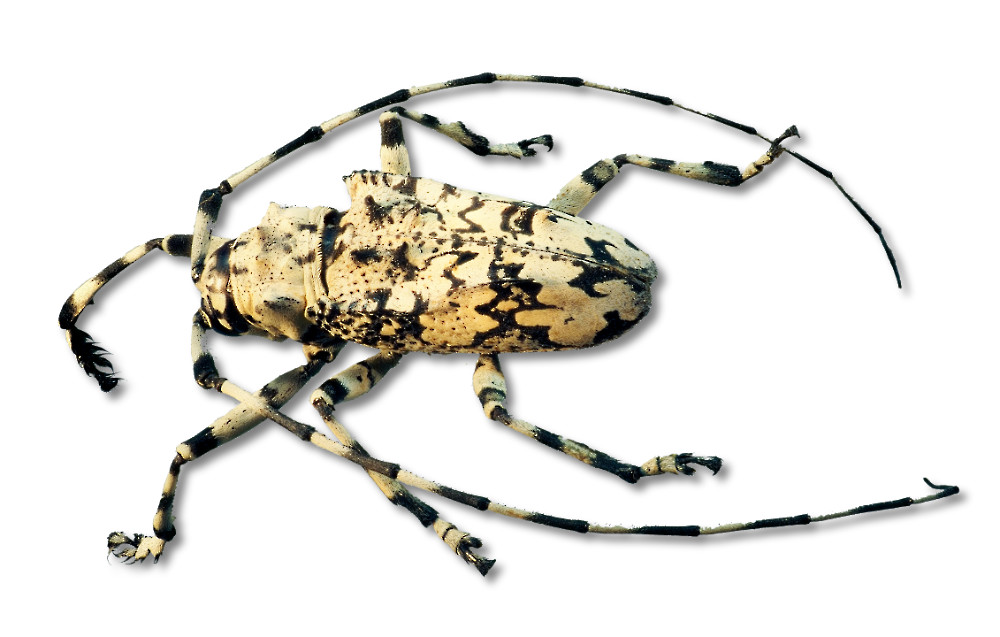 When using a suitable Olympus lens, the camera may be mounted on a macro adjustment slider by Velbon, Novoflex, Manfrotto or another manufacturer using a ball head. Now, the "Olympus Capture" software can be started and the necessary settings, such as number of shots, focus range, etc. set. If everything is prepared as desired, you can trigger the camera using the software and the preset number of shots in the desired focus area are automatically recorded.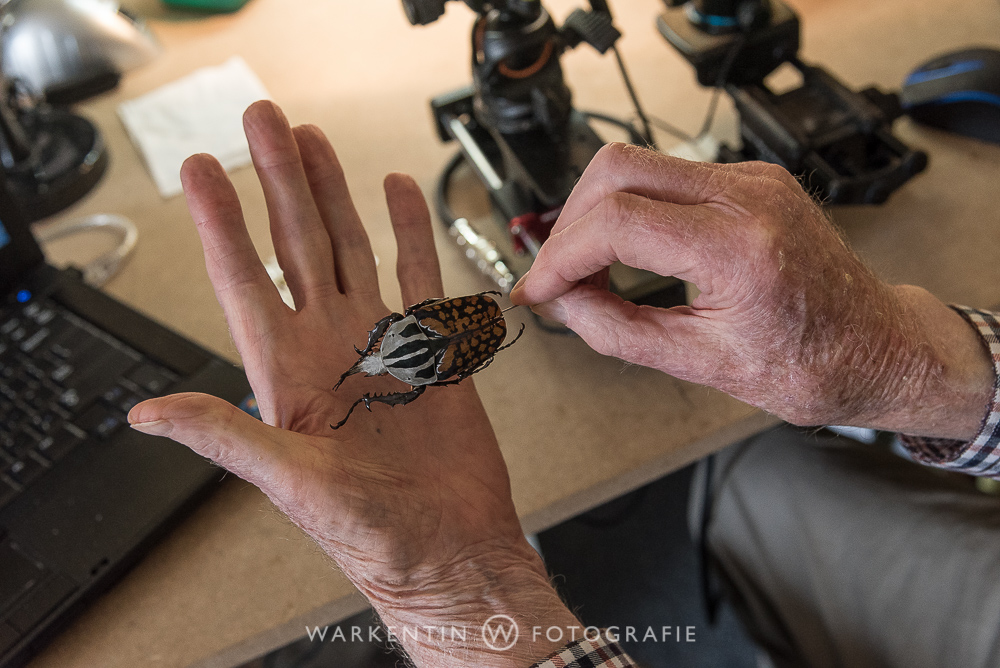 If, however, a different lens or a camera is used, which does not support the internal focus stacking, the camera must be mounted on a motorized slider. After cutting, lighting, focusing, etc. is set here, the software for controlling the motorized macro slider is started and there the necessary parameters, such as number of shots, step size, front and rear focus point, etc. set. Again, the recording process is started by triggering the camera with the software.
Depending on the size and desired depth of field of the object about 30 – 100, sometimes up to 200 shots are made. Now that you have finished all the shots of a series, they are joined together in a software that contains a function for processing focus stacking. Suitable for this example is "Zerene Stacker" or "Helicon Soft", but some image editing programs such as ON1 include a function for it, too.
The final step in image editing is optimizing the image and cropping the subject in Affinity Photo or Adobe Photoshop and voilá, the first beetle portrait is done!
INSTALLING THE WEMACRO SLIDER

The delivery of the WeMacro Slider consists of the following parts: motorized macro slider, control box, power supply, various cables and small parts.

Using the enclosed 1/4″ screw, the camera is mounted on the macro slider, which in turn is mounted on a sturdy tripod with 1/4″ and 3/8 "camera threads and connected to the control box, the heart of the system. From the control box leads another cable to the USB port of the computer and another with the included adapter to connect the camera. To do so, select the appropriate adapter cable for the desired camera when ordering. Finally, the included power supply selected during the ordering process is plugged into the control box and plugged into a power outlet, so the system is powered and ready for use. Depending on the operating system, WeMacro software may be installed to control the system for Windows or MacOS but also a control via Bluetooth can be used with an app for iOS or Android, which is available in the Appstore or Playstore.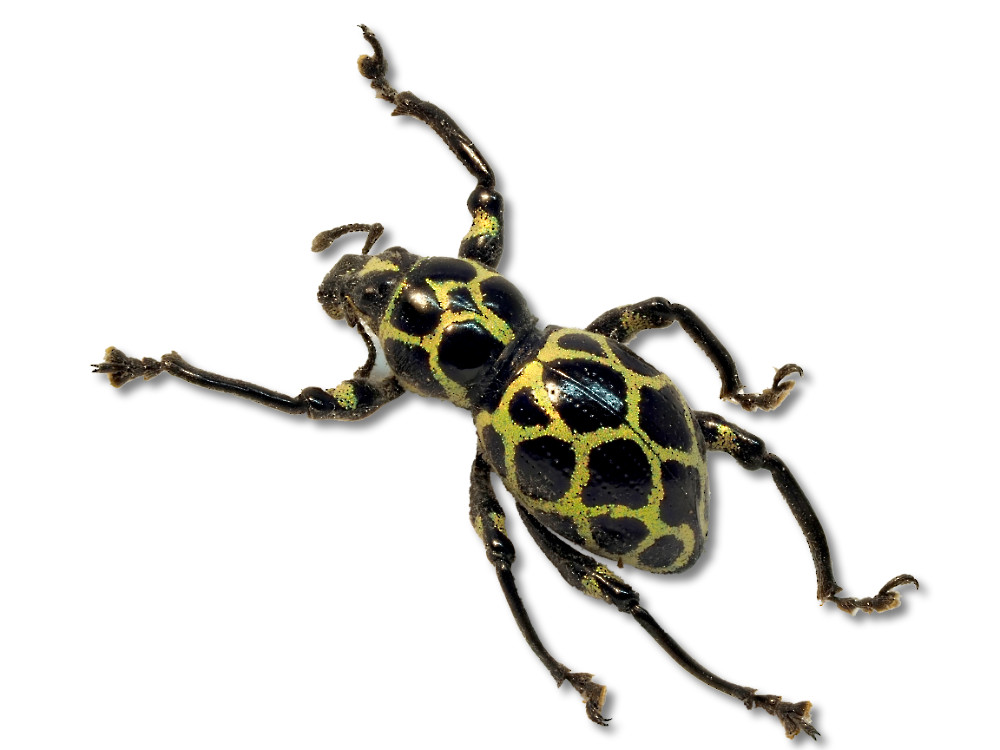 ---
Richard's equipment for focus stacking shots
Olympus OM-D 5 MkII
Olympus 60mm Macro
Olympus 30 mm Macro
Sigma 105 mm Macro
Raynox close-up lenses
Movo extension rings
IKEA lamp "Jansjö"
Half of a Table Tennis Ball as "Softbox"
Zerene Stacker Stacking Software
Photoshop or similar for editing and cropping
Velbon Super Mag Slider
Software Olympus Capture
Slider and software WeMacro (Win, MacOS, iOS, Android).
Vanguard ball head
---
Manufacturer Overview
Focusing sliders / macro sliders:
Manfrotto 454 (www.manfrotto.com)
Meike (www.meike-shop.de)
Novoflex (www.novoflex.de)
Velbon Super Mag Slider (www.velbon.de)
Motorized
Focusing sliders / macro sliders:
WeMacro Slider (www.wemacro.com)
StackShot (www.cognisys-inc.com)
Focus Stacking Kit (www.stackrail.info)
Vertical Macro Rail Pro (macrorail.com)
StackMaster (www.stonemaster-onlineshop.de)
Novoflex Castel-Micro (www.novoflex.de)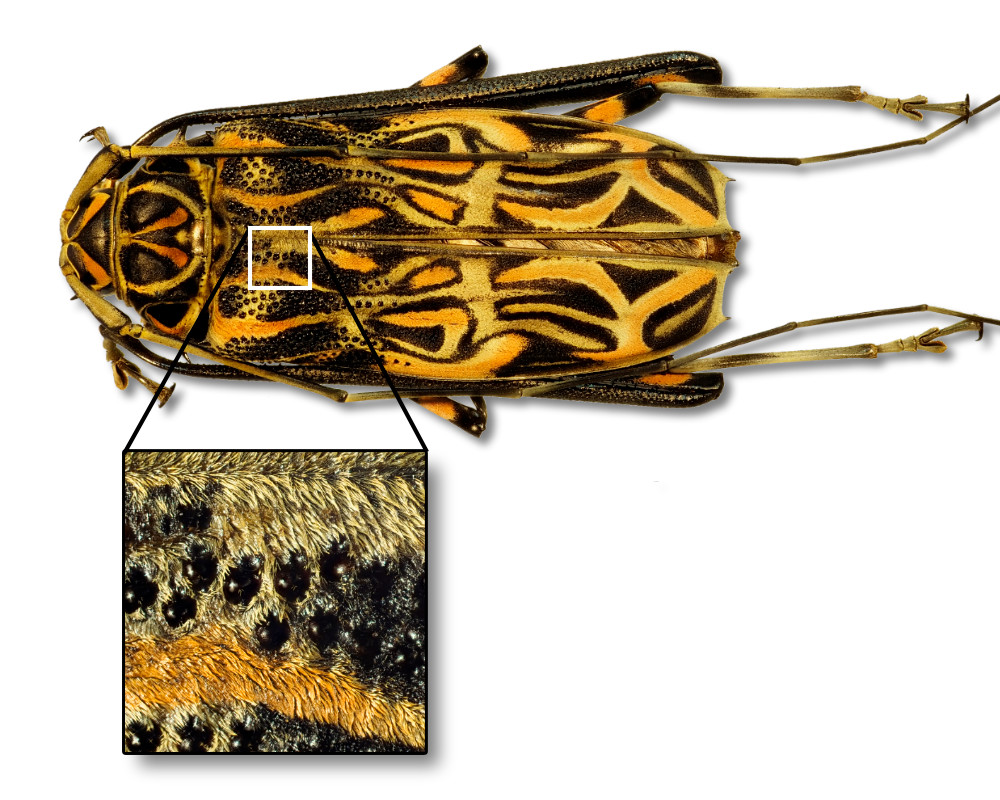 Software for focus stacking:
Zerene Stacker (OS X, Win, Linux) (www.zerenesystems.com)
Helicon Fokus (OS X, Win) (www.heliconsoft.com)
CamRanger (OS X, Win, iOS, Android) (camranger.com)
ON 1 (OS X, Win, (editor with stacking function) (www.on1.com)
Software for controlling the camera for focus stacking:
Software Olympus Capture (OS X, Win 7-10, freeware) (www.olympus.de)
Cascable (iOS) (www.cascable.se)
Insects and aid:
Insect preparations (www.thebugmaniac.com)
Appendage Relaxing Fluid and insect preparations (www.insects4sale.com)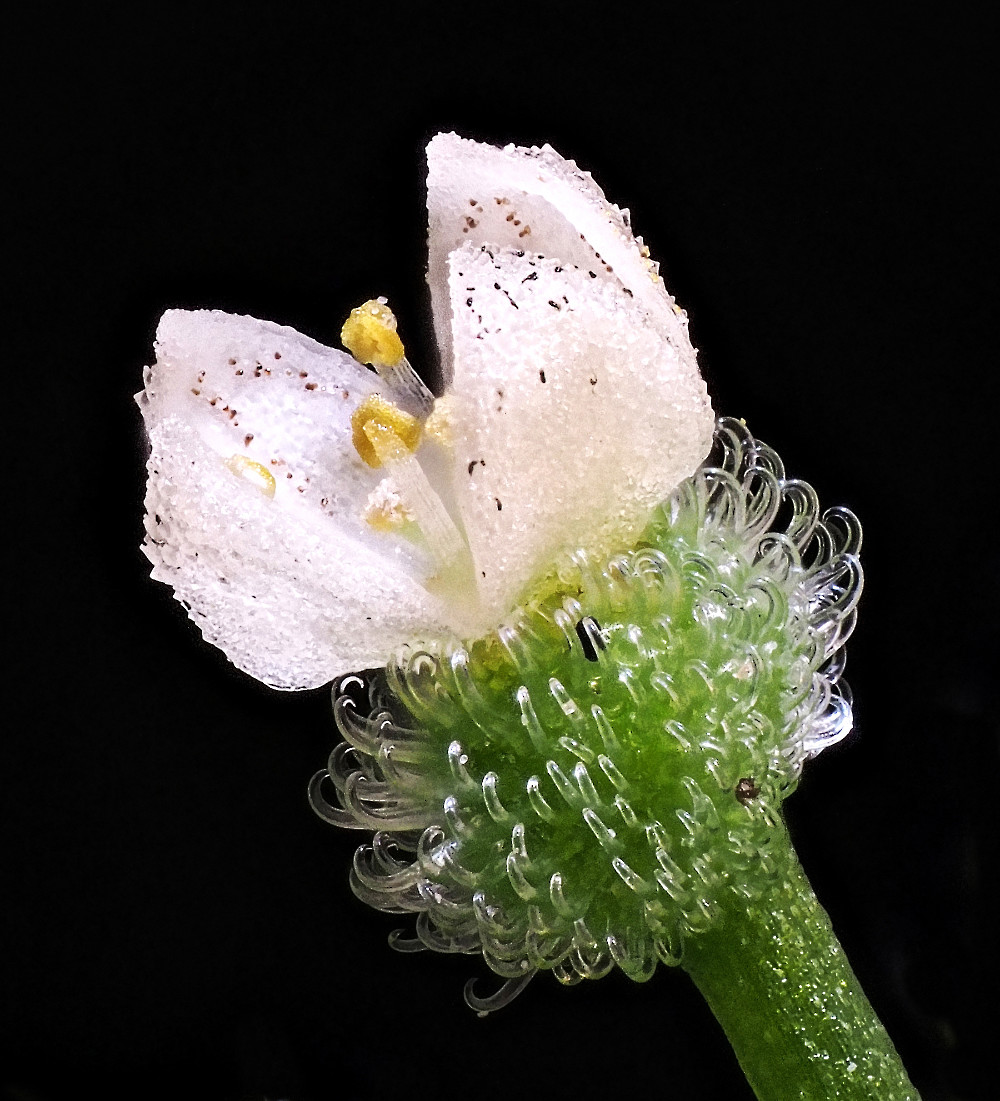 ---
More information about the topic
More extensive information on macro photography, focus stocking, etc. can be found at www.extreme-macro.co.uk, which is operated by the Pentax Ambassador Johan J. Ingles-Le Nobel. In any case, take a look at the side of the Swedish macro-photographer John Hallmén with his outstanding artistic macro shots of insects. Another way is the Briton Levon bite, whose insect photos have unimaginable detail precision. No wonder, his "micro-sculptures" of insects consist of 8,000 to 10,000 shots – for a single insect!